George Henry Powell - Born: Feb 6, 1867 in Ananosa, Iowa. Married Jamima Elizabeth Bolin Jan 9, 1898 in Pottawatonie County, OK . Died: February 27, 1952 Clovis, NM. George's Father was John (Nathen?) Powell - Mother: Milly A. Robison

Jamima Elizabeth Bolin - Born: Oct 26, 1876 in Jasper, AK - Died: July 30, 1954. Elizabeth Father was George Washington Bolin I - Mother, Mary Elizabeth Brooks


George and Elizabeth had eight children - Nettie Lee - Samuel Asberry - Maud Belle - (Joe Powell-Born: Aug 25, 1905 - Died: Dec 17, 1906) - Georgia Retha - Cecil Ann - Oren (Bud) Harvey - Last but not least my Father James William Powell-Born: May 20, 1915 in Bellview, NM Died: Sept 10, 1970 in Midland, TX

Look at who's not doing right!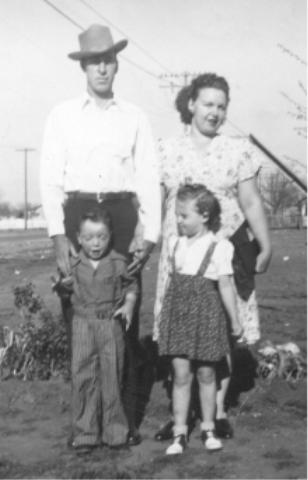 It could be the sun is in his eyes? At least that's what Jimmy said it was!

James P and Carolyn (Cone) Powell Married: Sept 9, 1961 Melrose, NM
Click Picture
Jim & Carolyn Powell
Click Here, See if Sherry is at Home? Nope!
Ken and Sherry Jane (Powell) Howie Married Aug 1, 1985 Memphis, TN
I've heard it said many times, your sister Sherry looks just like your Mother. Even Dad said back in 1970, she sure does act just like Delcie. So being the oldest sister, I wonder how come I didn't get any of it. (I know!) she was saving the best for last. Me, well I guess I must look and act more like my Dad, at least that's what they all say. As far as that goes James P. voice sounds just like Dad. I use to not be able to tell them apart on the phone. I hope you have enjoyed looking at the photo and if there is some misinformation in it, please let me know. I will correct it.