CLICK ON PHOTO'S TO ENLARGE
James William Powell
Sargeant Infantry
Duty NCO: Served with the 4th Replacement Depot in Japan for a period of 7 months. Was in charge of processing replacements through the replacement depot. Guided replacements through the various phases of the replacement depot and held formations to inform the replacements of detailed assignments in the depot pending their assignments to an organization in an occupation area.
Dates of Service: April 25, 1945 to May 7, 1946.

In 1936 Dad took an Aircraft Riveting Course, at the Defense School in Clovis, New Mexico Qualified as Expert Infantryman.
I'm sorry to say I do not know the names of these men that are with Dad in this picture. Dad is the one in the right row in the back.
"DAY OF INFAMY"
Franklin D. Roosevelt - December 8, 1941
Full audio speech, "Yesterday, Dec. 7, 1941 - a date which will live in infamy - the United States of America was suddenly and deliberately attacked by naval and air forces of the Empire of Japan."
May 31, 2004 Memorial Day, A World War II Memorial was dedicated to the World War II Veterans and open in Washington DC. sixty years after the war.

On the Pacific side of the memorial engraved in stone was President Roosevelt speech to the Congress declaring war against the Japanese Empire. The part where Roosevelt said -- So help us God -- was deliberately left out.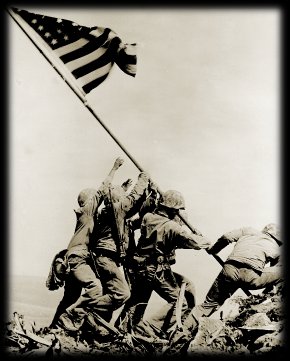 Marines raise the flag on Iwo Jima after taking the island from the Japanese in a costly month-long battle in 1945.
The photograph taken by Joe Rosenthal of the Associated Press, won a Pulitzer Prize.
>>>>>>>>>>>>>>>>>>>>>>>>>>>>>>>>>>>>>>>>>>>>>>
The city of Hiroshima lies in ruins after the first use of the atomic bomb in warfare, Aug 6, 1945.
On Aug 14, 1945 Japan announced its surrender. The formal signing took place on Sept. 2, 1945 in Tokyo Bay aboard the battleship Missouri headed by Gen. MacArthur.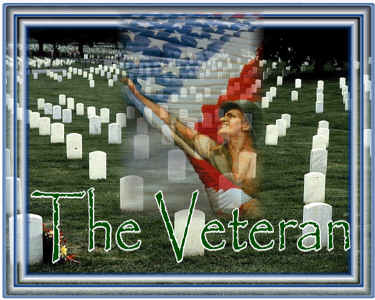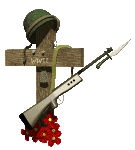 Cost of Lives, Cost of money in World War II was the greatest ever recorded in History. A rough consensus reached in terms of money spent was more than $1 trillion, which makes it more expensive than all other wars combined. There were more than 68 countries in War against other countries at the same time. The estimated cost of life's were 55 million ( 25 million Military and 30 million Civillian) not counting over 5 million Jews killed in the Holocaust.